Automatic Painting Line for Plastic Parts
Painting Line
Primarly developed for automotive plastic parts painting.
Technologicaly able to paint plastics (ABS, PP, PS, PA, PE, HDPE,..), wood and different types of metals.
Console allows setup 100 different settings and programs.
Loading - Reloading Part
Effective palets dimension: 1800 x 815 mm
Number of palets in the line at the same time: 103
Speed of the palets: 0,5 – 2,0 m/min.
The beginning and end of the process in the same place.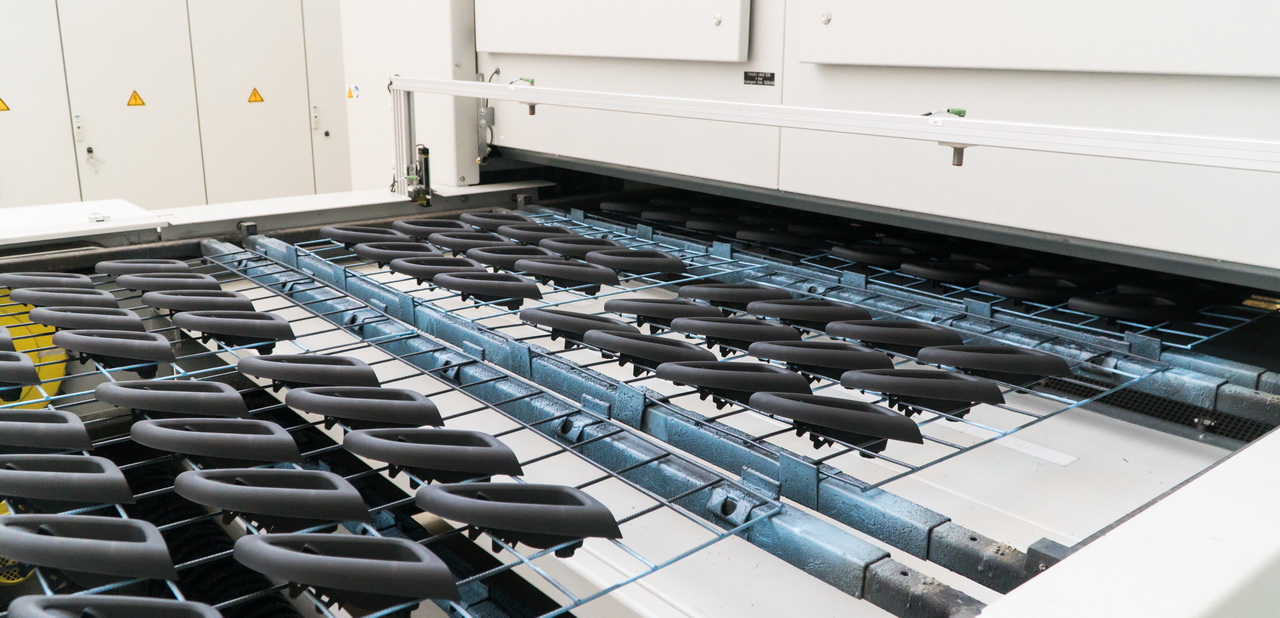 Moisturizer in Aircondition Part
Ensures the required moisture content.
Preparation of incoming air to the spraying area (20-25 C ° and humidity 50-65%) independent of outdoor weather conditions.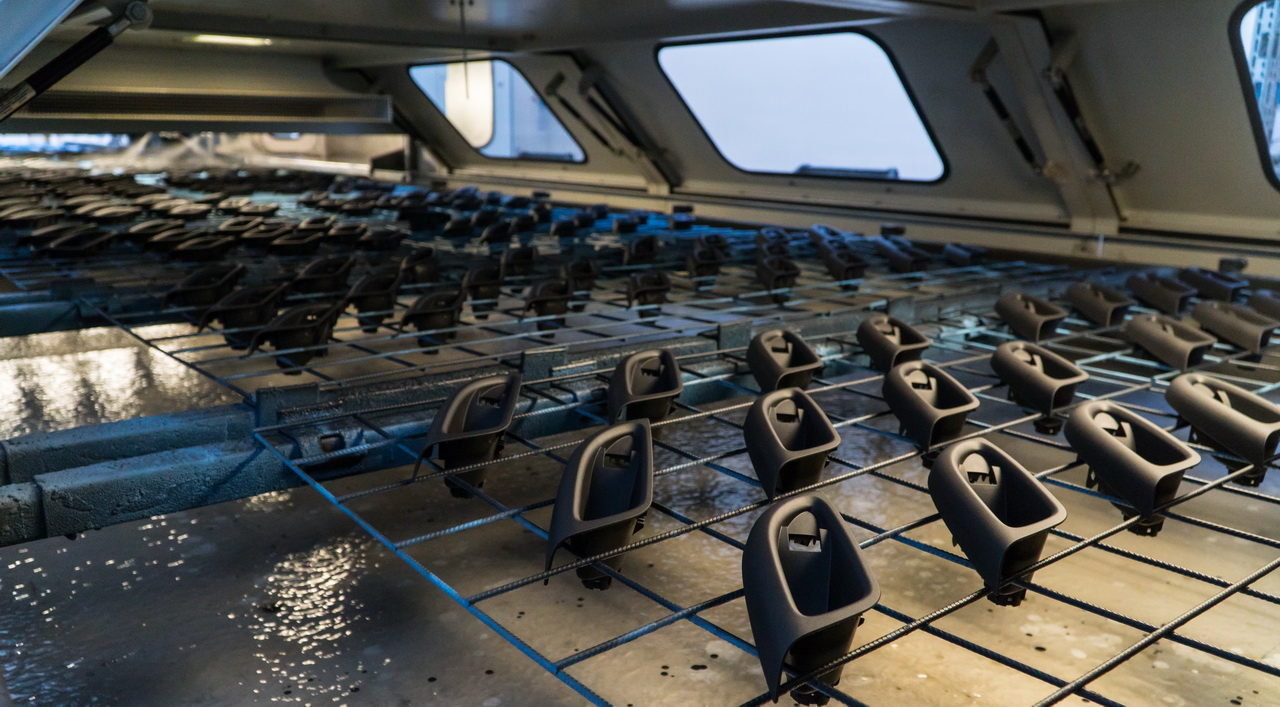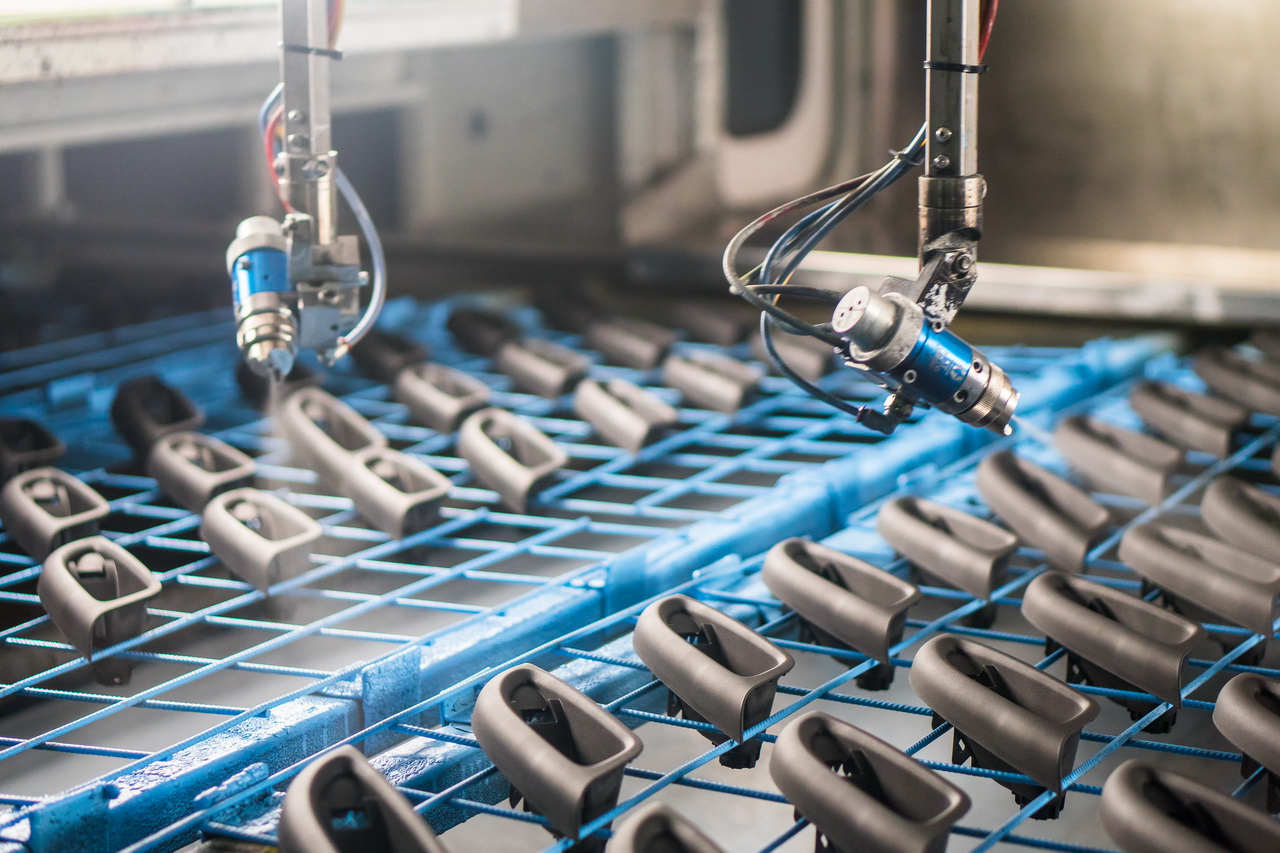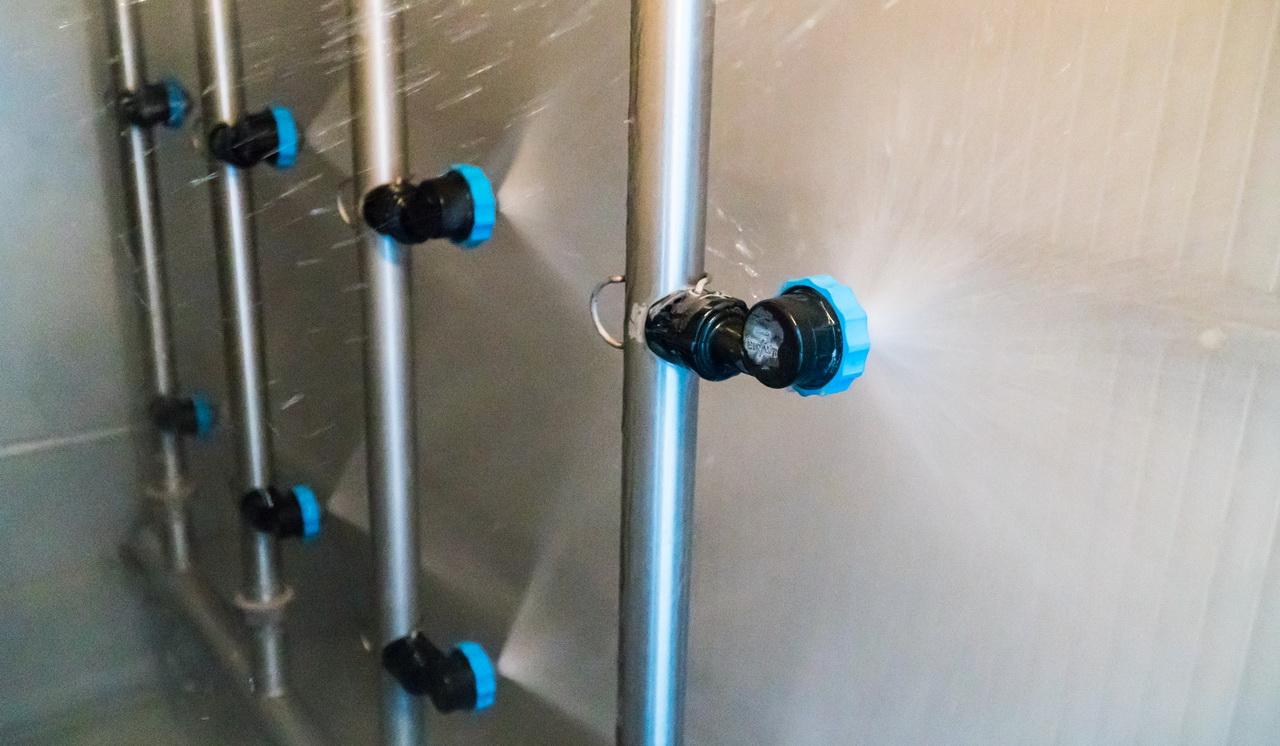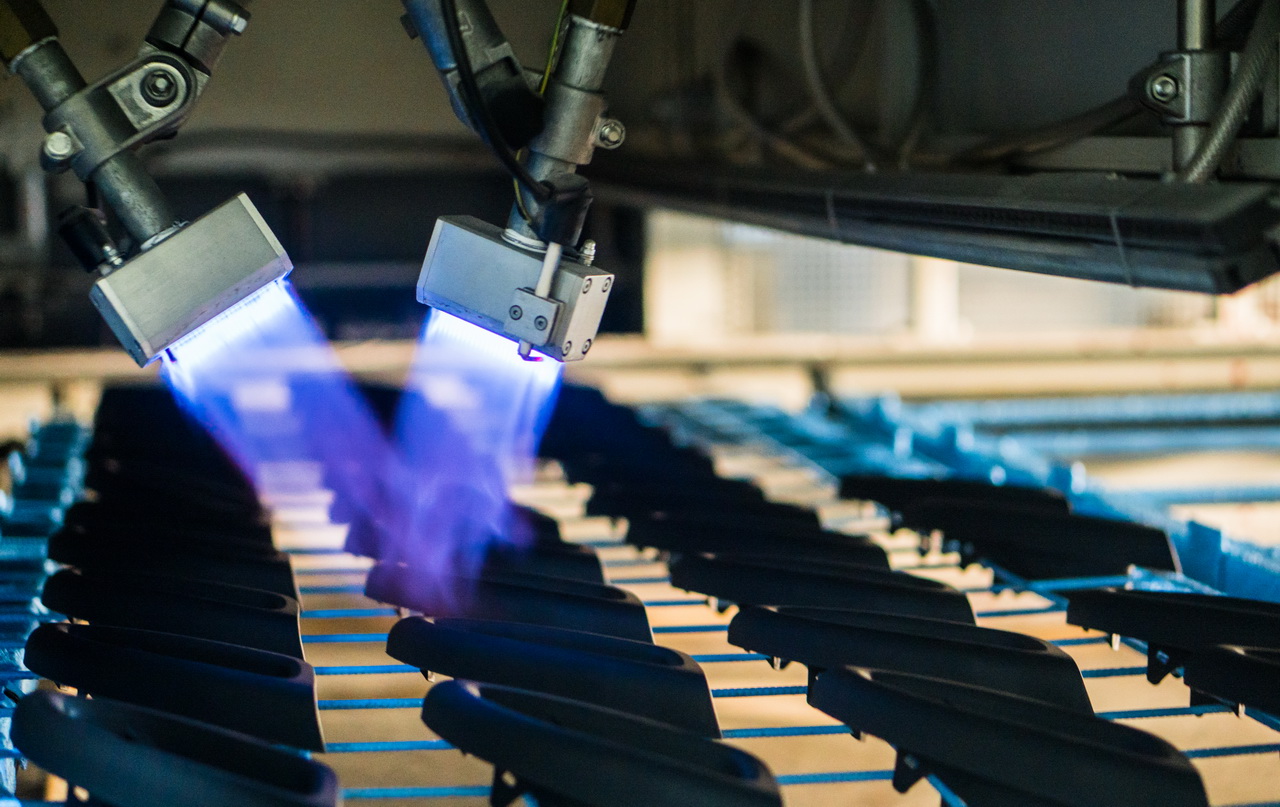 Compresor Unit with Pressure Can and Air Refrigerator
Air line environment – Atlas Copco set-up including compressor with frequency convertor, absorption drying unit with cooling box (guaranted - 40 C °, ≤ 0,1 mg/m³ of oil in air)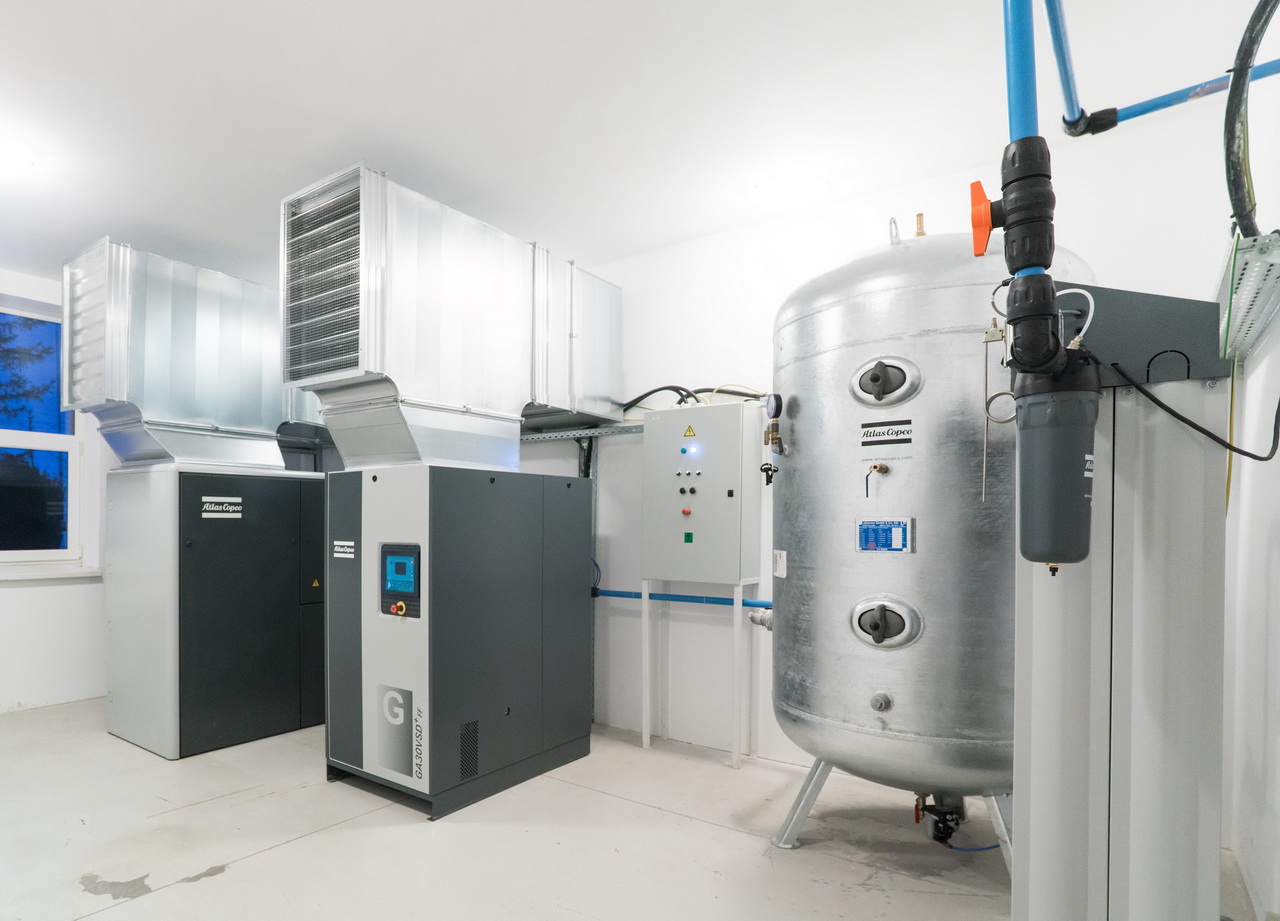 Measuring Tools
Gloss meter MG268-F2
film thickness gage has a modular design to accommodate a wide range of applications. Multiple sensor probes are available for maximun flexibility.
The byko-test 8500
Multi angle Gloss meter MG268-F2 from KSJ Institute of Photo electrical Instruments is used to measure gloss of finishing surfaces such as varnishes, inks and paints as well as decorative materials such as plastics, metals, marble, granite, polishing brick and tiles etc.
TQC Cross Cut Adhesion
The TQC Cross Cut Adhesion Test KIT (CC1000) is used to test the adhesion of dry coats of paint on their substrate by means of a series of cuts through the coating.
Lux Meter PCE-172
The Lux Meter PCE-172 is used to measure the lighting conditions in industry, agriculture and research.
Production portion
Electrotechnical industry
Automotive segment
Electronics manufacturing and servicing company
Home appliances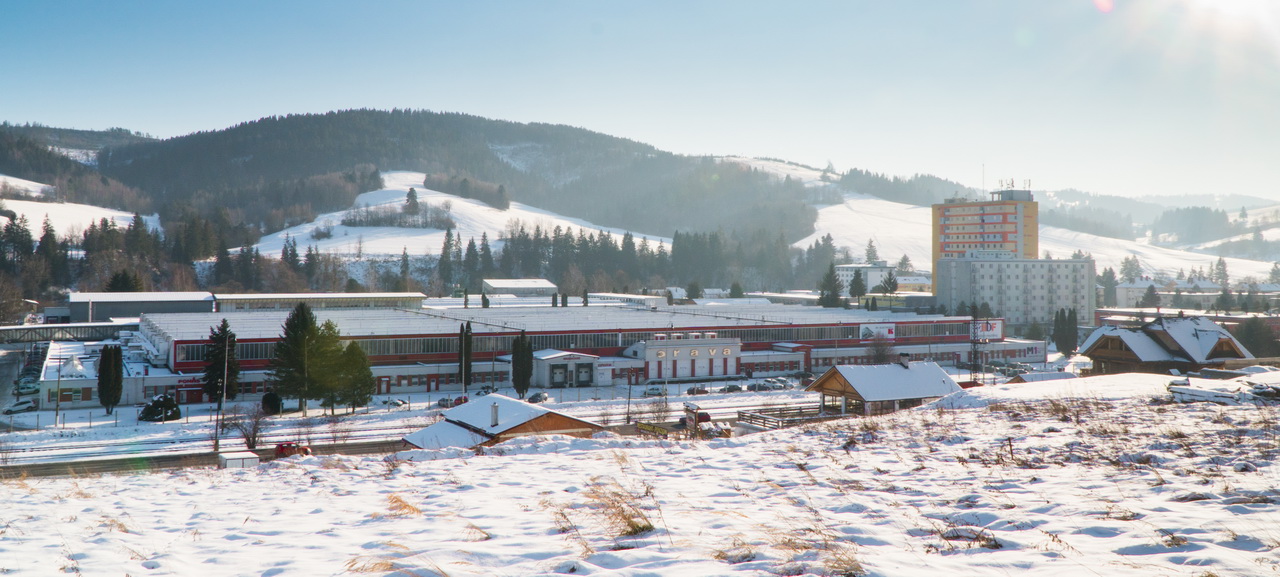 Main scope
Spraying technology
Visual control income, outcome parts
Project cooperation with M1 partners
Turnover 1.5 – 2.2 mil. Eur
Placed at industrial park M1 (over 25 000 m2)
Premises Potential
1.500 m2 premises for connected operations with option to increase it by additional 700 m2.
Space divisions : entry warehouse, parts preparation, line manipulation space, quality control, tampoo printing, packaging, expedition warehouse.
Reconstructed back office and employees backspace.
Line was put into operation in October 2016. At the present time we are working in serial production.
Our Team
Technology and its service fulfil last strict norms and requirements.
Key staff on place with many years experiences from automotive production - different painting technologies as well as with same technology and quality requirements.
Working 16 hours / 5 days (2 shift pattern) – we are able to increase by double capacity to 4 shift pattern (24/7)
Employed avg. 25 people – for better flexibility we can use agency (valid contract)
ISO Certification
EN ISO 9001 Quality management valid from 13. april 2017 to 12. april 2020.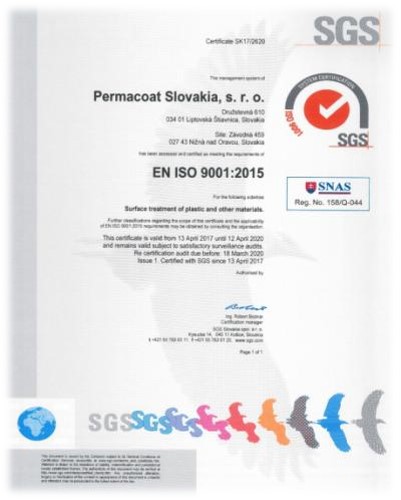 Warehouse
350 m2 of warehouse place designed on
Receipt of goods
Verification of those goods
In-house transport (between different parts of the warehouse)
Storage and safe-keeping of items
Preparation of orders and the consolidation of loads
Dispatch of goods
General management and processing of information related to the stock, workflows, demand, etc.
External stock from 1st of December 2018 another 400 m2
We are using drive in racking system
This system is base on the storage by accumulation principle, which enables the highest use of available space in terms of both area and height.
Drive-in racking is designed for the storage of homogenous products. It accommodates a large number of pallets for each SKU.